The Palms Villa is a luxurious private boutique hotel. Situated in the heart of Tanzania, Tanga, with stunning sea view and hidden between the majestic Peponi gardens of the Kwabada Forest park that are stretched behind the Villa, the Villa is a fusion of both traditional and modern Tanzanian and Italian culture.The original structure of the building was a colonial building which was then renovated to a luxurious modern villa, with interior styling that combines contemporary art, antiques and design.
Branding, Logo variations, Graphic elements, Photography style, Stationary.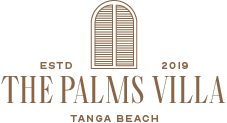 I wanted to create a brand identity that is memorable – something that could remind us that feeling when you're in a secluded beach with thick gardens surrounding the area. I focused on creating a brand that could speak for itself, a welcoming place with cool colors and special details in their amenities, to create that sense of hospitality and luxury.